Shade Solutions
There Is Life After Shade…
Shade  is one of the gardening areas that people struggle with the most, and we receive the most questions about it in our retail sales greenhouse.  The shade garden is a unique garden and can happen in unexpected places, like under a heavily foliage tree in the middle of a sunny yard or next to a building or under a pergola. We have a few ideas with how to tackle this area, starting with the structure of a perennial garden, filling it in with annuals, and we also a few tips on care.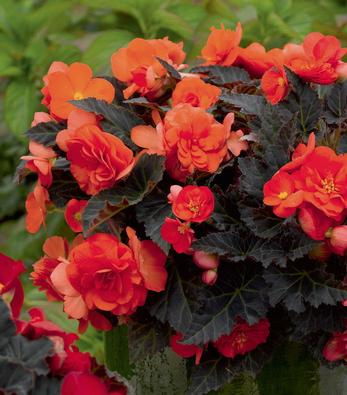 We recommend that you begin this garden with the structure and framework of perennials.  Shade perennials have their specific season of bloom most commonly ranging in the spring and summer category, however there are a few that bloom in the late summer or early autumn.  In choosing perennials, one of our favorite suggestions is to incorporate some that have chartreuse and lime colored leaves.  It is striking how this leaf color brightens up a shady area.  White flowers also glow in low light.  There are many perennial shade choices. Bleeding Hearts (Dicentra) are extremely hardy, have a lovely spring bloom with colors of white, pink, and now red with the newer 'Valentine' variety.  'Gold Heart' is a variety of Bleeding Heart with chartreuse foliage and pink flowers worth trying.  Hostas provide structure by virtue of their leaf texture, are available in multiple heights, multiple leaf patterns as well with chartreuse accents, and bloom in the summer.  Ligularia varieties start at 24" tall and range to heights of 5'.  Our favorite is 'Rocket' which blooms in the summer with golden yellow flowers blooming on a spire. Heuchera (Coral Bells) have a multitude of leaf colors and variations from whites, silvers, greens, corals, oranges, pink, reds, chartreuse, and lime that bear delicate blossoms in summer. One last favorite is Astilbes with foliage that is ferny in appearance bearing flower plumes in hues of white, coral, pinks, and reds.  They grace the shade garden in summer.
Annuals pull constant color through as perennials cycle through their blossom times.  Reliable choices for shade include: Fibrous Begonias, Nonstop Begonias which are very popular for their bright flower colors, Fuchsia, Abutilon, and Schizanthus. Should you happen to have a shaded balcony, take a look at Dragon Wing Begonias for a dramatic container.
Shade gardens generally have a moister environment because of the minimized exposure to the sun, especially when mulched, require less watering.  As a matter of fact, begonias generally die from overwatering. Their stalks become soft & slimy and they rot to death. In general, a shade garden may need water about every 10 days but always check before watering. Some areas of shade gardens may need water even less than that.
This just scratches the surface of the possibilities for shade, there IS life after shade; and we'd love to help you live it. Come visit us in our shade section to show you the possibilities.