Fifteen Fab & Faithful Perennials
Below is a list we have compiled of zone 3 and 4 perennials that day in and day out, season in and season out have proven to be good performers for our locale here in the greater Edmonton area.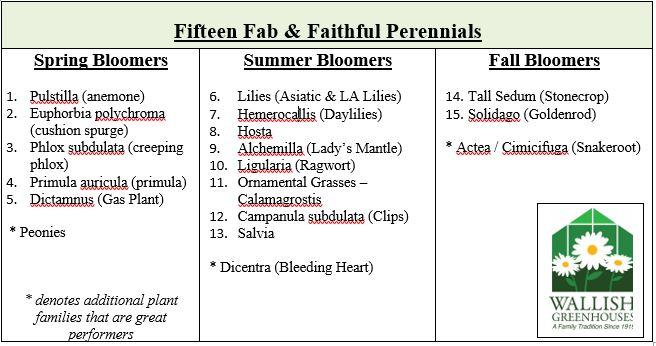 This is just a quick list, we could do a blog on each one of these plants.  There is an entire world of detail on the internet, in gardening books, and gardening magazines describing each of these plants, so use this as a springboard for your creativity.  Another great source is a very well written book called Perennials for Every Purpose by Larry Hodgeson – it is still available at Amazon.com.
Note that these are classes of perennials, and with most of them have a good selection of varieties to choose from – so if you selected from this list itself you could end up with quite a beautiful garden that blooms all through spring, summer and fall.
When you go to purchase perennials, be careful, however, to double check the classification zones of all the varieties.  Sometimes they are not zone hardy for our area.
Enjoy experimenting and discovering which of these are fab and faithful for you!